Paris, with its iconic landmarks, rich history, and cultural attractions, is one of the world's most popular tourist destinations. Whether you're a first-time visitor or a seasoned traveler, this Paris travel guide will help you plan your trip to the City of Light. Here are ten must-do activities to add to your itinerary:
01. Paris Travel Guide – Visit the Iconic Eiffel Tower
No trip to Paris is complete without seeing the Eiffel Tower, one of the world's most recognizable landmarks. From the top of this iconic structure, which stands 324 meters tall, you can enjoy breathtaking views of Paris. You can take the elevator or the stairs to the top, and the view is well worth the effort!
But the good times don't stop there. Stay until after sunset to see the Eiffel Tower put on a magical light show every hour on the hour from dusk to midnight. It's a once-in-a-lifetime opportunity that you won't want to pass up!
02. Paris Travel Guide – Take a Cruise on the River Seine
A river cruise on the Seine is an excellent choice for a more affordable way to enjoy a tour of Paris. Prices start at €13, and you can see all of the city's major landmarks from a unique vantage point.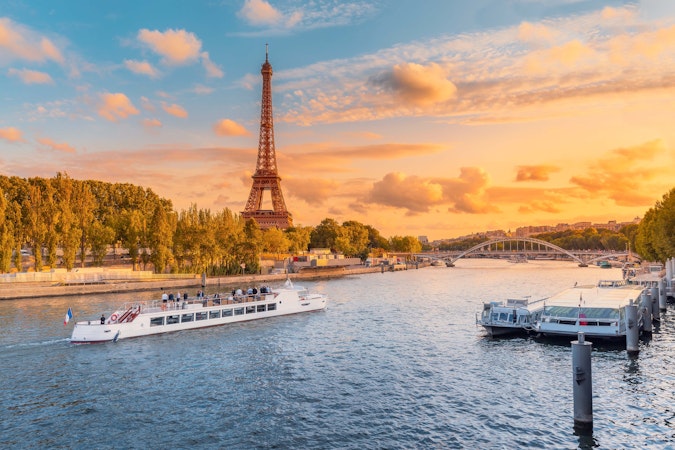 To get the best price and avoid crowds, book ahead of time through sites like @getyourguide or @viator. It's a great way to unwind and appreciate the beauty of Paris from a different angle.
03. Paris Travel Guide – Visit the Arc De Triomphe
Another must-see landmark in Paris is the Arc de Triomphe. It's a historical memorial to the soldiers who fought and died for France during the French Revolutionary and Napoleonic Wars.
Climb to the top of the Arc De Triomphe for panoramic views of the city, or simply admire the intricate architecture from below. In any case, it's an experience you will never forget.
04. Paris Travel Guide – Visit the Louvre Museum
The Louvre Museum is one of the world's most famous museums and a must-see attraction in Paris. The museum, which houses the iconic Mona Lisa, also houses a large collection of other well-known works of art.
Even if you aren't an art enthusiast, the stunning glass pyramid architecture is a must-see in Paris. Make sure to set aside some time to explore the museum and marvel at its many wonders.
05. Paris Travel Guide – Go for a Walk Around Notre Dame Cathedral
Notre Dame Cathedral is a stunning French Gothic structure that has withstood the test of time. Despite being damaged by a fire in 2019, the cathedral remains a must-see attraction in Paris.
Take a walk around the cathedral and marvel at the stunning architecture that has stood for centuries. It's a tranquil and serene experience that transports you back in time.
06. Paris Travel Guide – Relax and Take in the Beauty of the Tuileries Garden
The Tuileries Garden is Paris's oldest and largest garden, and it is now a UNESCO World Heritage site. It's a beautiful and peaceful oasis in the heart of Paris, ideal for relaxing and admiring nature's beauty.
Take a stroll through the gardens and marvel at the numerous statues and fountains that dot the landscape. It's a great place to get away from the city and recharge your batteries.
07. Paris Travel Guide – Visit the Historic Palace of Versailles
The Palace of Versailles was built by King Louis XIV as a royal residence. It's a stunning example of French architecture and design and a must-see for history buffs.
Make a full day of exploring the palace and its many gardens. It is a magical experience that transports you to the height of French royalty.
08. Paris Travel Guide – Go shopping at Rue St Honoré
Paris is known for its fashion, and one of the city's most famous shopping streets is Rue St Honoré. Rue St Honoré, located in the first arrondissement, is home to some of the world's most exclusive designer boutiques, including Chanel, Dior, and Hermes.
Even if you're not looking for high-end fashion, it's worth a visit just to window shop and enjoy the atmosphere.
09. Paris Travel Guide – Watch a classical Cabaret show at the Iconic Moulin Rouge
The Moulin Rouge is one of the world's most famous cabarets, and a trip to Paris would be incomplete without seeing a show there.
The Montmartre district is home to the iconic windmill, and the shows are a dazzling display of feathers, sequins, and high-kicking can-can dancers. Purchase your tickets in advance, as shows tend to sell out quickly.
10. Paris Travel Guide – Take a trip out of Paris and live your princess dreams at Disneyland
Disneyland Paris, located just outside of Paris, is a magical destination for both children and adults. There is something for everyone at Disneyland Paris and Walt Disney Studios Park.
Meet your favorite Disney characters, ride roller coasters, and enjoy parades and fireworks displays. It's a truly magical experience you won't want to miss.
Conclusion
Paris is a city that has something for everyone, from history and culture to fashion and entertainment. The Eiffel Tower and the Arc de Triomphe are must-see attractions in Paris, but there's also plenty to discover off the beaten path. 
Take a Seine cruise, relax in the Tuileries Garden, and shop on Rue St Honoré. And, while you're there, don't forget to try some French cuisine – the city is famous for its delicious food and wine.
So pack your bags, purchase your plane tickets, and prepare to fall in love with the City of Light. Paris is ready for you!